Reiser Relief Inc. is a volunteer run non-profit 501(c)(3) corporation founded by Father Bernard Reiser, who had been involved with Haiti outreach programs since 1996. Reiser Relief is a Minnesota based organization and it's mission is to provide relief, hope and dignity to the poor, elderly and homeless people of Haiti.
Thursday, October 27, 2011
Friday, October 14, 2011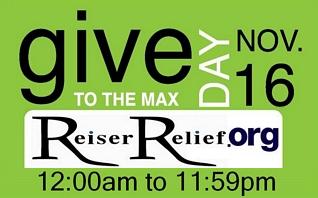 Help Haiti The Great Minnesota Give Together
Reiser Relief invites you to join in a day of generous giving designed to support nonprofit organizations across Minnesota. On November 16, GiveMN.org will sponsor their third annual, online Internet fundraiser called
Give to the Max Day.
(
Learn More
)
The theme this year is,
The Great Minnesota Give Together.
In this fundraiser,
Reiser Relief will be in competition with other Minnesota small nonprofits for grants ranging from $1,000 to $15,000
. (
Details
)
Minnesota based nonprofit, GiveMN's secure online fundraising platform is easy to use for both donors and nonprofits. Last year, more than 42,000 donors logged on to GiveMN and gave more than $10 million to Minnesota charities during the 24-hour-long event. Again this year, we are given the power and opportunity to raise millions of dollars for Reiser Relief along with others.
Golden Ticket Bonus Grants
What if you could help Reiser Relief win $1,000 or $10,000 just by giving only $10?
On
Give to the Max Day
, you can help us gain multiple chances at increasing our donations by participating in this online giving event. (
Details
)
On behalf of Reiser Relief Inc., I extend our warmest greetings to you and your families this autumn season. We are so grateful for the support that we have received from our donors. Thank You!
I remember the days when there were not freezers in the home and preserving the harvest for the winter months by canning was quite a challenge. Canning was always a great undertaking in late summer and fall, when hundreds and hundreds of jars were filled with the wonderful produce of the summer. It was a tedious and long job, but putting the harvest in Mason jars always left us feeling satisfied with our labors as we had the assurance that when the wind blew cold and the snow piled high outside, the kitchen table would be laden with nourishing and tasty foods.
Reiser Relief needs to plan for its upcoming winter season as well by filling its stores, and you have the opportunity to make a huge difference for the poor in Haiti. With your help we can continue to provide essential services to many Haitian families in their day-to-day efforts for survival. These services include providing fresh water, stocking food centers, and funding education and eldercare facilities.
We hope you will help support Reiser Relief by logging on to
http://reiserrelief.org/ on November 16
and "Bring Hope to Haiti." Be part of this historic event and join
the Great Minnesota Give Together
!
Give to the Max!
!!
We thank you for your interest and support in helping us spread HOPE to the men, women, and children of Haiti. May God bless each of you most abundantly and know you are in my daily Mass and prayers.
Fr. Bernard Reiser
President, Reiser Relief Inc.
Reiser Relief Inc.
1800 - 111th Avenue NW #320
Coon Rapids, MN 55433
763-757-2295
Posted by

reiserrelief
at 3:35 PM
No comments: